My Week of Glamour and Anarchy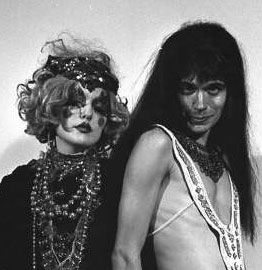 Last week Thrillpeddlers enjoyed the height of serendipity with the fabulous Cockettes. That Thrillpeddlers embrace the spirit of San Francisco's legendary psychedelic drag ensemble is no surprise. The group was part of a late-60s/early-70s bi-coastal queer hippie performing arts clique that included Charles Ludlam's Ridiculous Theatrical Company and John Waters' Dreamland Studios. Their work would eventually bring high camp to pop culture influencing Bette Midler, Mary Hartman, Mary Hartman, The Muppets, Alice Cooper, The Rocky Horror Show, and countless other acts and entertainers that captured my imagination as a kid and continue to color my work in the theatre to this day. When I recently asked Jet, a Cockette and later a member of the offshoot group The Angels of Light, to tell an audience "Who were The Angels of Light?" he replied "We are your ancestors."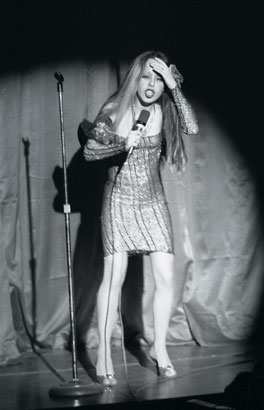 My mi casa es su casa invitation to the Cockettes has brought them trooping through the Hypnodrome's door leaving a trail of glitter and grins in their wake. What a wondrous blessing! That said, I still can't quite believe the incredible week that was because Sweet Pam, Rumi Missabu and big-hearted Fayette Hauser are en Hypnodrome. This morning Pam emailed me this photograph of her. Thrillpeddler Mel Gordon snapped it years ago in New York when Pam was performing The Palm Casino Review.
And so to events of last week. On Sunday, Hypnodrome played host to Rumi's revival of his beloved Camaraderie Art Salon. Dubbed "A Cocktail of Glamour & Anarchy", the bill included Thrillpeddlers' "Blue Hour" acts "The Lonely Doll" and Simone Corday's "Night Manager" along with acts from Camaraderie Art's outrageous coterie of performers. Cockette Pam Tent a.k.a. Sweet Pam read from her memoir "Midnight at the Palace", Tahara and Jet a.k.a. Jilala made their first visit to the 'drome and Jim dressed in glam hag drag for the very first time (and was mistaken for Rumi more than once!).
Fayetta and I spent the whole week scheming about her costume design for Thrillpeddlers' revival of playwright/performer Charles Busch's Theodora, She-Bitch of Byzantium and we accepted Charles' invitation to see his new production of Shanghai Moon in Sag Harbor, New York next month.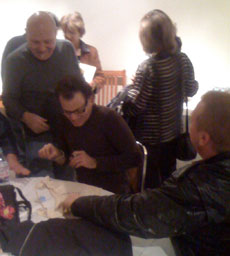 On Friday, Sweet Pam and I joined Daniel Zilber and his wife Adrien to take advantage of tix Fayette had scored for us to see the extraordinary vocal group The Manhattan Transfer (her brother Tim Hauser just happens to be a founding member of the group). It's been over a quarter of a century since Daniel and I saw them perform at the Starlight Amphitheatre in our hometown of Kansas City. Those many years ago singer Alan Paul ripped a wife-beater t-shirt off his chest after singing "Gloria" and tossed to me, then a fifteen year old boy who'd sneaked into a vacated front row seat for their encore. Needless to say, Alan was blown away on Friday when I pulled the remains of that T-shirt out of my pocket and asked him to autograph it. See the photo to get an idea of his surprise and horror.
The night was a little bittersweet, since it was the first time I'd ever been absent from a Hypnodrome performance. Had it not held such promise for all, I never would have headed for the concert. By all reports, the gang at the Hypnodrome did me proud.
With this much to tell about a week at home, I wonder what adventures are in store when Jim and I head off to New York on June 1st to take part in honoring the Cockettes and performing a little Grand Guignol in an east coast installment of "A Cocktail of Glamour & Anarchy." Stay tuned…